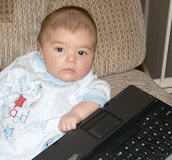 Raymond Zachary Driever was born on January 5, 2008 at 7:40 PM.
He is now

old.
Weight at birth: 8 pounds, 12 ounces
Length at birth: 21.75 inches
10 fingers, 10 toes and lots of black hair
Ray's Mom and Dad will forever be grateful to the amazing staff at Bethesda North hospital.